SI LEGGE NARNIA, MA SI SCRIVE NARNI
È la medioevale cittadina umbra di Narni ad aver ispirato Clive Staple Lewis per la sua saga dedicata all'eterna lotta tra il bene e il male. Ma nelle di Cronache di Narnia si va oltre, non è la saga tenebrosa del suo collega ed amico I.R. Tolkien, è un'intensa favola dalle facili assonanze cristiane che il regista Andrew Adamson, padre di Shrek, ha trasportato sul grande schermo per la Disney e con gli effetti speciali di Rhythm & Hues, gli stessi de" Il Signore degli Anelli". Proprio Adamsonper altro è da sempre definito come autore antidisneyano.
Le avventure di quattro ragazzi in un mondo stregato, al quale hanno avuto accesso attraverso un armadio, fanno da sfondo al primo di una serie romanzi per bambini, dove l'inverno è eterno, ma non viene mai il Natale, ed il cui titolo completo recita così: Cronache di Narnia: Il leone, la strega e l'armadio.
Un kolossal disneyano, aperto a varie letture sul quale aimè alcuni esponenti dell'integralismo cristiano hanno voluto porre il proprio sigillo.
c.p.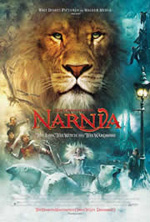 LE CRONACHE DI NARNIA: IL LEONE, LA STREGA E L'ARMADIO
Anno 2005
Titolo originale
THE CHRONICLES OF NARNIA: THE LION, THE WITCH & THE WARDROBE
Regia: Andrew Adamson
Attori: Georgie Henley (Lucy Pevensie), William Moseley (Peter Pevensie), Skandar Keynes (Edmund Pevensie), Anna Popplewell (Susan Pevensie), Tilda Swinton (Jadis, La Strega Bianca), James McAvoy (Sig. Tumnus), Shane Rangi (Generale Otman), Patrick Kake (Oreius), Elizabeth Hawthorne (Sig.ra Macready), Kiran Shah (Ginarrbrik), James Cosmo (Papa' Natale), Judy McIntosh (Sig.ra Pevensie), Jim Broadbent (Professor Digory Kirke), Brian Cox (Leone), Sandro Kopp (Centauro), Stephen Ure (Satiro)
Soggetto: C.s. Lewis
Sceneggiatura: Andrew Adamson, Christopher Markus, Stephen McFeely, Ann Peacock
Fotografia: Donald McAlpine
Musiche: Harry Gregson-Williams
Montaggio: Sim Evan-Jones, Jim May
Effetti: K.n.b. Efx Group Inc.
Rhythm & Hues
Sony Pictures Imageworks
Weta Workshop Ltd.
Costumi: Isis Mussenden
Scenografia: Roger Ford
Distribuito da: Buena Vista International Italia
Prodotto da: Walt Disney Pictures, Walden Media, Lamp Post Productions Ltd.
www.buemavista.it
http://www.disney.it/Film/narnia/global/index.html?subSection=init
http://adisney.go.com/disneypictures/narnia/index.html